Welcome to
Estes Park Trolleys



The Historic Stanley Hotel
Estes Park's Premier Transportation Provider
Estes Park Trolleys specializes in group events from daily tours, weddings, corporate and convention delegates to family reunions, festivals and other special events. Our trolleys are elegant, charming, immaculate, and reminiscent of the 1920s-style. All of our trolleys are enclosed with the windows that open for fresh mountain air. Have a unique event idea? Let us customize our transportation to suit your needs!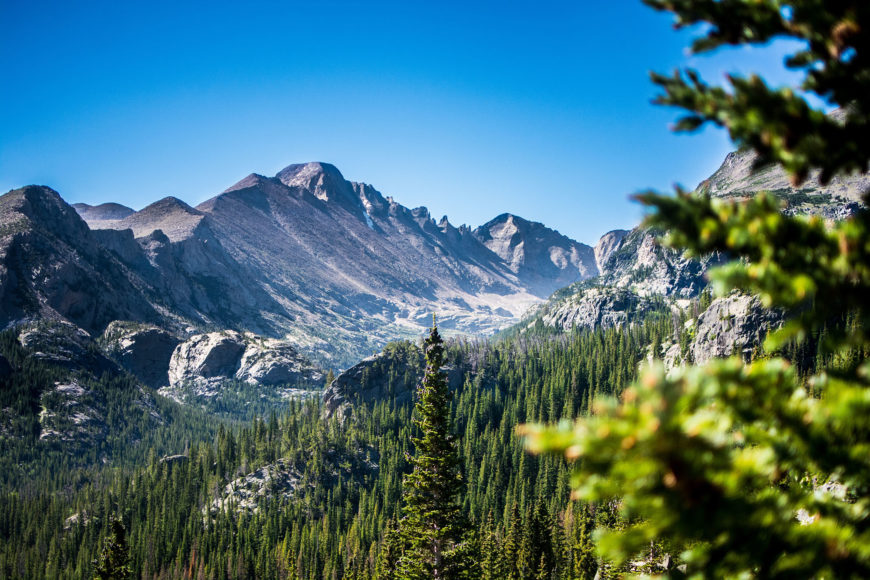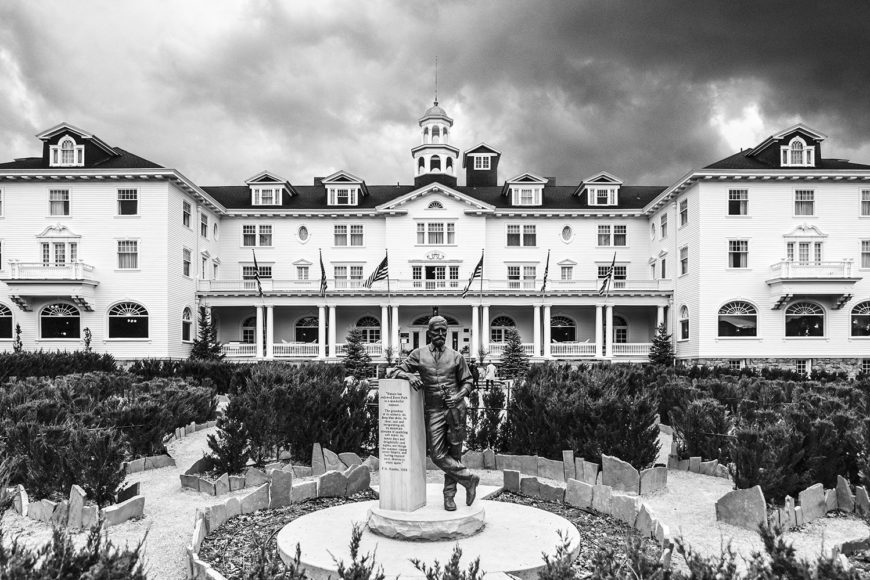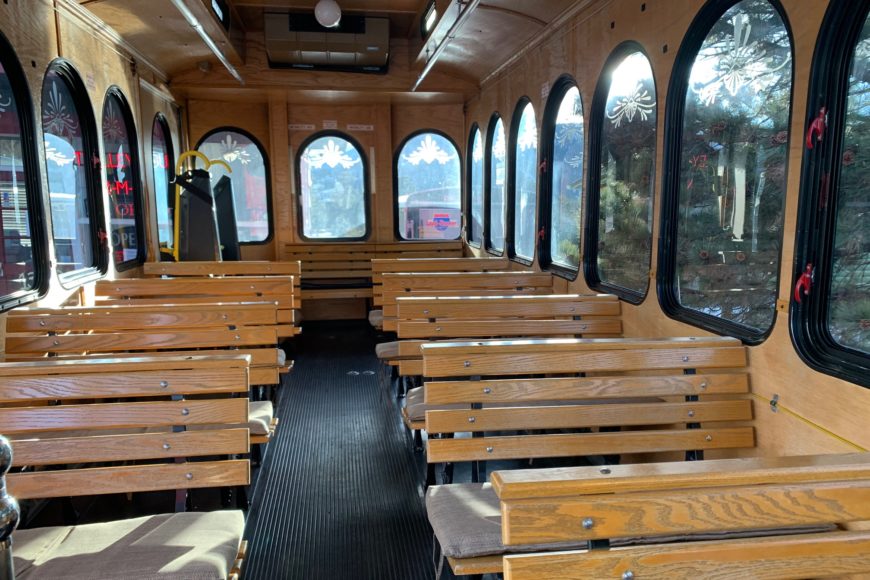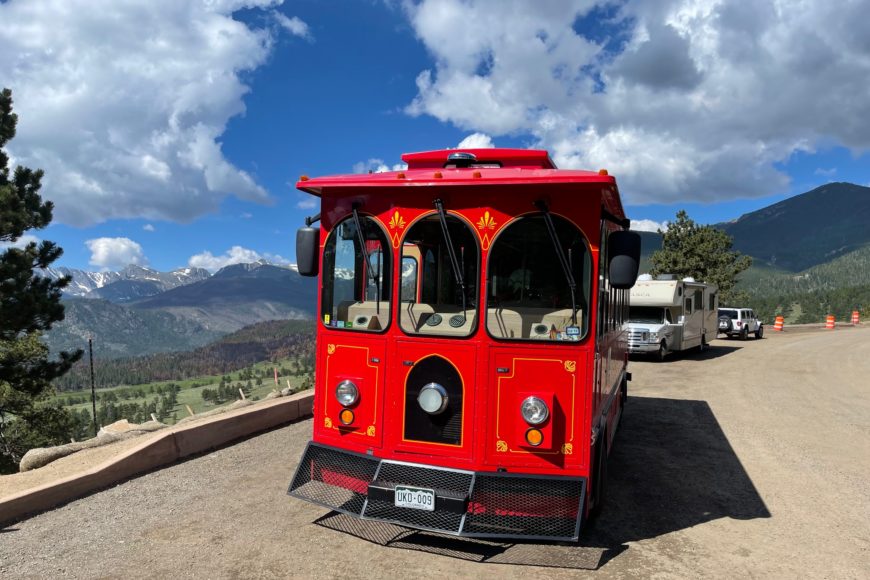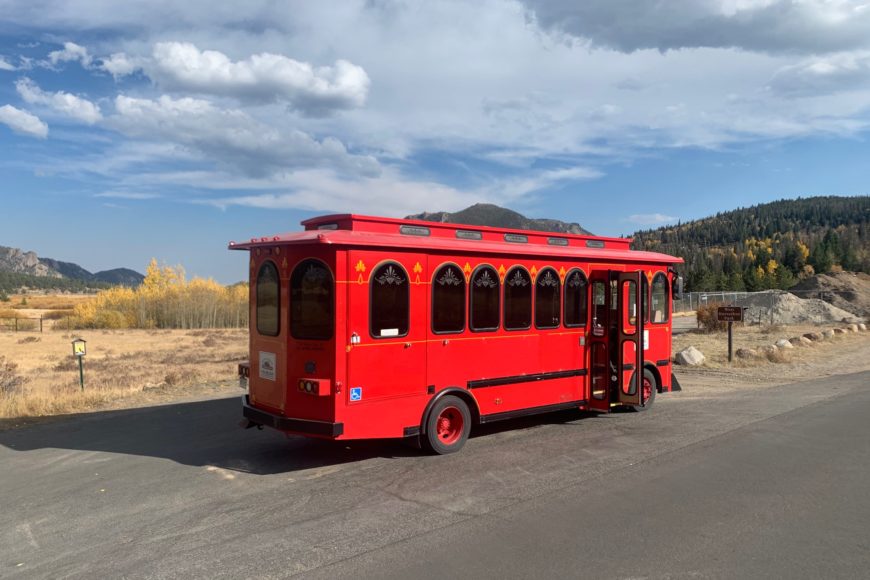 Celebrate your wedding, group charter, or even a scenic tour in sophisticated style! Let Estes Park Trolleys make your transportation and or tours with our classic style trolleys. Traveling by trolley is the perfect authentic & sophisticated ride for your wedding party, family, and or friends. In addition to the perfect wedding day photo backdrop, our trolley is the fun & unique event venue on wheels for rehearsal dinners, bachelorette and bachelor parties, and more. Whether you need to shuttle wedding guests to and from the ceremony, to and from the reception and local hotels, or just want to provide a custom tour of the Estes Park area, our classic trolleys are the easiest and most worry-free transportation solution for the occasion. We can provide door-to-door service so your guests can enjoy themselves together, without the hassle of driving. We are a family-owned and operated trolley transportation company and will work with you to create a custom, authentic experience on your special day. Our fleet includes one 26-passenger trolleys with perimeter, soft seating (limo style), as well as one 24 passenger trolley with forward facing, wooden trolley seating. Contact us today at 970-481-8531!
Excellent Family Adventure.

This tour company is very organized, clean, safe, and knowledgeable. We really enjoyed our visit to the park! Great for my four year old grandson, 82 year old mom and all of us in between.

Great Tour

The guide was very knowledgeable and made the trip enjoyable. We tried to get entry tickets into the park, but were unable to get them on Monday so we decided to do a tour. This provided us with historical information and stops we had not seen before. Also gave my husband an opportunity to look around instead of driving and keeping his eyes on the road.

Wonderful Tour

This is a great tour to take thru Rocky Mountain National Park. Leave the driving to the trolley company and enjoy the sites and listen to the history of the park. The tour guide and driver were very knowledgeable of the park. We learned a lot about elk and sheep that inhabit the park. We saw a female moose and her calf up close and deer. Tour lasted 3 hours with many stop along the way where you were able to get off the trolley for walking or picture taking. Almost all stops had restroom facilities. They also had a cooler on the trolley with complementary bottled water if you like. We throughly recommend Estes Park Trolley for your tour. An excellent way to enjoy the park and know about the sites you are seeing.

Excellent Tour

My family didn't know about the reservation process at the park, and we thought we'd missed out on seeing the park until we saw this trolley tour business next to our hotel. We're so glad we found this business because we were able to have a knowledgeable guide in the park as well as learn a bit more about local history along the way. We saw great parts of the park, and we enjoyed ourselves. The driver and guide were professional, and our tour was very enjoyable. I'd recommend this service to others.